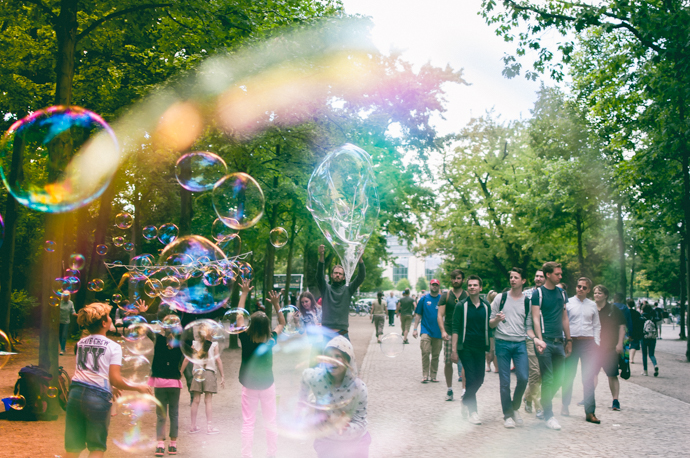 The Tiergarten (formal German name: Großer Tiergarten) is Berlin's most popular inner-city park, located completely in the district of the same name.
The park is located on the northern and central side of Tiergarten Ortsteil and is bordered, on the northern side, by the river Spree. The little quarter Hansaviertel borders on it at the north-western side and the Zoological Garden is situated on the south-western side. The principal road is the Straße des 17. Juni which ends, in the east, at the Brandenburg Gate. Other main roads are the Altonaer Straße, Spreeweg and Hofjägerallee. In the middle of the park is the square named Großer Stern ("Great Star") with the Siegessäule (Victory column) located in its centre. In addition to the Brandenburg Gate, other notable buildings and structures located close to the park are the Soviet War Memorial, the Reichstag, the Bundestag (all in the eastern borders), the new central railway station (in the north) and, on the southeastern borders, the Memorial to the Murdered Jews of Europe, the Memorial to the Sinti and Roma victims of National Socialism and the central square of Potsdamer Platz.
In the northerly neighbouring quarter of Moabit a much smaller park bears the same name, thus both are differentiated as Großer and Kleiner Tiergarten.
The Tiergarten has an area of around 210 hectares (520 acres), and after Tempelhofer Freiheit, it is the second biggest parkland in Berlin and the third biggest inner-city parkland in Germany.